23 Jan

Southern Mississippi Home

Here is a photo of a beautiful home that is being built in Southern Mississippi. This home features a wraparound porch and a stick-framed bump out for extra space which serve as an extra bathroom or laundry area.
Here you will see in close detail the prep work for mortar chinking, as well as the chinking. Chinking refers to filling the space between the logs, with mortar or another type of fill. You will notice the nails over top of the insulation to serve as reinforcement to hold the chinking in place. We do everything to ensure we build a sturdy log house that will last.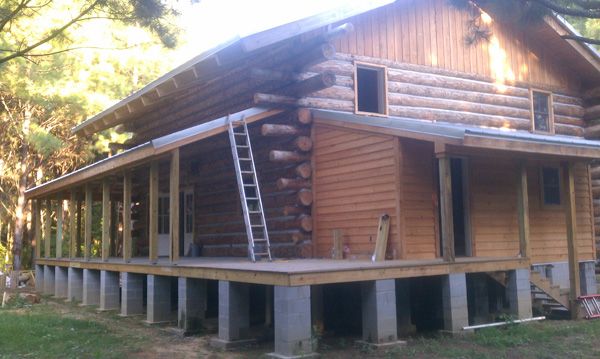 Here is an example of chinking underneath a covered porch. This porch will eventually get screened in to keep the infamous Mississippi mosquitoes at bay, while the owners enjoy a cool evening on the swing.
This bump out will provide the owner with extra space that would be great for anything, whether it be a bathroom, laundry area, utility closet, or simply to open up the floor space on the inside.