23 Jan

Weekend Getaway!

Check out this Weekend Getaway along the Blackwater River in Southwest VA. This little beauty is the ride and joy of a local retired post office worker. This home features one great room with a sleeping loft along with a wood-burning stove and a covered front porch that is perfect for watching the deer graze long the river.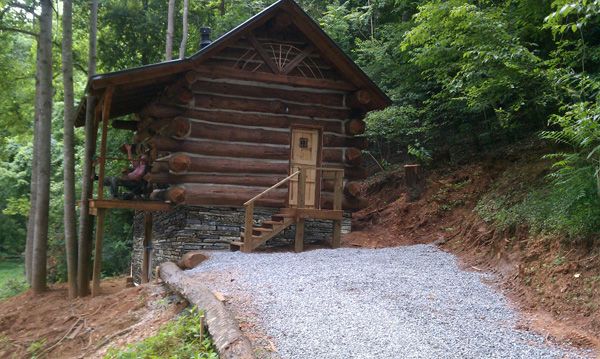 The owner had this property for years and always dreamed of having a place to escape to on the weekends. Like those who wish to get away from the hustle and bustle of the city, he wanted a place that returned to the simpler times where life slowed down, and you could sit back and watch the lazy river rift by.
This project started with a meeting on the site. After walking the site we agreed on an area by the river. After spending 10 minutes drafting a sketch of the plans, we were off to the races. We wanted to incorporate a lot of personal touches that were meaningful for the owner, starting with the twig sunrise on gable truss. These sticks were collected alongside the river and custom peeled with a little help from nature: local Beavers!
The owner of this cabin had spent his career carrying and delivering mail for the postal service, so when it came time to handcraft the Dutch double doors, we knew we couldn't pass up an opportunity to pay tribute to his years of service. He really wanted a window in the door in order to be able to see out front, so we came up with the idea of a half mailbox, with the flag still up, as a fitting honor. He couldn't have been more pleased with this added little touch
Stairs to the sleeping loft, notice the front door with the mailbox in the background
Grandpa Wiley after a long hard day of supervising takes a break. As he always said "Theres nothing worse then not doing anything, because you cant take a break!"